COGNOS exam pdf
CA exam pdf
HERE'S HOW TO DONATE

Donating is simple

All you need to do is click on either the Oscars100 or My Cause logo's at the top  of the page to be directed to the donations section.
Oscars100 aims to support autistic children and their families through fundraising for, and partnering with, relevant community organisations, this money will then be utilised to fund early intervention initiatives similar to what Oscar has been provided with, for people not fortunate enough to be in a position to fund themselves. In an effort to inspire people to donate Oscars100 will compete in and organise a series of endurance events each year, with participation and inclusiveness key values we encourage in our events.
All donations over $2 are tax deductible and you will be supplied with a tax invoice from My Cause, who has generously agreed to provide us with a method to collect and distribute our funds.
To those extraordinary people who donate $100 you will receive more than just the satisfaction of helping people make a difference in this world. Donations of $100 or more will also receive a certificate of thanks from Oscars100.
Further to the certificate all donations through of $100 or more on My Cause will be immortalised on the Oscars100 roll of honour supporters page permanently as a sign of our appreciation of supporting us.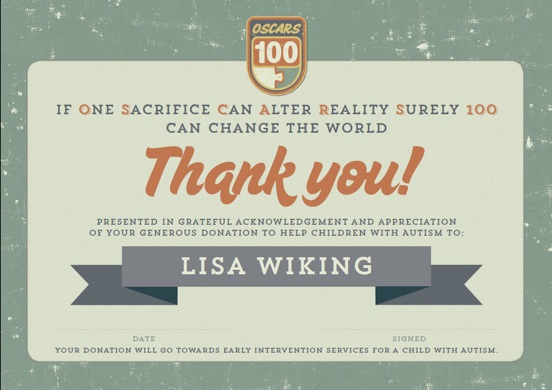 "Unless someone like you cares a whole awful lot, Nothing is going to get better. It's not."